AffyXell Platform
Convergence of DW-MSC & Affimer Platform

AffyXell Platform
Novel Cell & Gene Therapy Platform for Immune-mediated Diseases
"AffyXell" developed by AffyXell Therapeutics is a next generation cell & gene therapeutics that has adopted Affimer® gene to DW-MSC with advantage
of consistency of stem cell features for long term cultivation. "AffyXell" maintains the fundamental immune-modulatory function of mesenchymal stem
cell, and that functions are improved further through Affimer®,which is expected to feature more excellent efficacy than any precedented stem cells.
Also, Affimer® has its advantage in being able to clearly explain its mechanism of action property of AffyXell as it affects more specific proteins. AffyXellis
is based on DW-MSC, which means that it can be used for diverse patients (Allogenic therapy) and can be developed into a cryopreservation product
that can be administered to the patient without additional preparation at the hospital, which is expected to be a cell & gene therapeutic in a whole
different concept from the conventional stem cell therapy.

Based on 900 clinical trials, MSC's immune-modulatory properties are well known,
but it's in vivo mechanism is hardly explained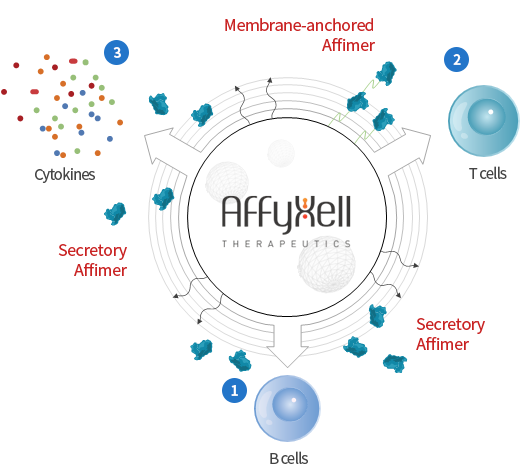 Therapeutics for immunologic/inflammatory diseases with clear mechanism

A

Paracrine effects : Effect from cytokine or growth factor secreted by MSCs

B

Cell to cell contact : Takes on effect by being in interaction with immune cells or damaged cells

1

AFX-001 : Regulation of T cell-mediated B cell activation

2

AFX-002 : Treg-mediated suppression of T cell activation and proliferation

3

AFX-003 : Control of general Immune environment

Modality
Allogenic MSC therapeutics, high versatility as off-the-shelf product
Maximize immunomodulation effects
(MSC's effects + Affimer-mediated specific effects)
Overcome current challenges and limitations of stem cell therapies (Clear MoA & mass production with consistent quality control)
Mode of Actions
Designed to improve immunomodulation function of MSC with Affimer®
Specific agonist or antagonist to signal regulator(s) to control abnormal immune responses
Designed to recover the balance of immune system by controlling both innate and adaptive immune system

Therapeutic Area
Autoimmune disease,Transplantation rejection (SOT, GVHD), and Inflammatory diseases
Indication expansion to intractable diseases: sub-acute strokes, severe acute pancreatitis, acute respiratory distress syndrome (ARDS)

Cost Effective
Cell banking system, which enables mass production
(leading to affordable care for patients)
Controlled manufacturing process for robust and consistent MSC products
Consistent quality management from batch-to-batch and unit-to-unit